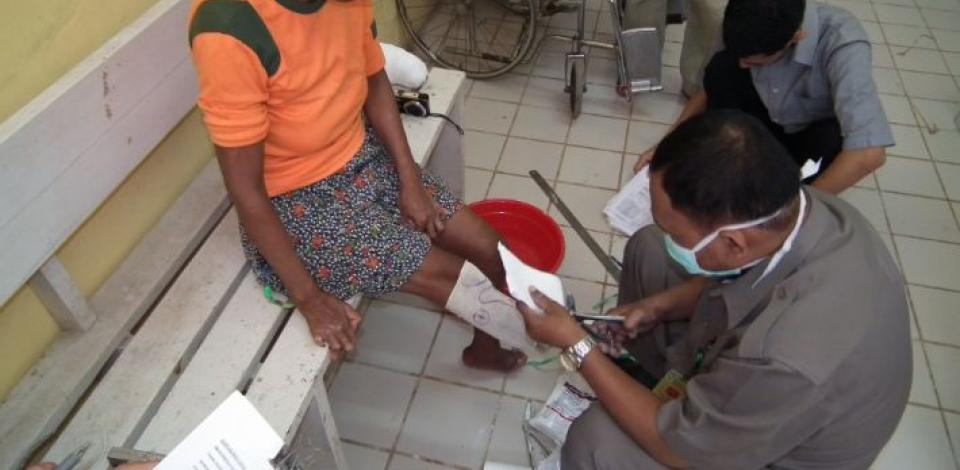 Introduction
A prosthesis is an artificial replacement for a missing part of the human body. Assistive or walking devices are devices that are an extension of the body and allow for control over the environment, for example canes and crutches. Wheelchairs are devices that provide wheeled mobility and seating support for people with difficulties in walking and moving around.
People with NTD-related disabilities that experience movement impairments and/or activity limitations are in need of prostheses, assistive devices or a wheelchair for walking and moving around. Access to rehabilitation and assistive devices services enables them to be independent and reduce the disabling effect tremendously.  
For which NTDs is this relevant?
It is relevant to leprosy, Buruli ulcer, Guinea worm, soil-transmitted helminths, podoconiosis and lymphatic filariasis.
As stated by the Convention on the Rights of Persons with Disabilities: The CRPD requires actions from States to ensure provision of mobility devices in order to facilitate full and equal enjoyment of all human rights and fundamental freedoms by people with disabilities. However, more than 75% of developing countries have no prosthetics/orthotics training programs which lead to a poor coverage of prosthetics and orthotics, and even lower coverage of wheelchair services. Moreover, often there is a lack of adequate trained personnel that provide these services and a lack of co-ordination between agencies. To be successful in providing prosthetics services for people with NTD-related disabilities, a multidisciplinary approach is needed that collaborates and integrates with CBR programs. These programs should include systems for early identification and referral (through a community program), transportation, a rehabilitation center with hostel facility, a hospital with surgical unit, outreach program, wheelchair services and prosthetic & orthotic workshops. 
More publications on: