Which instrument should you use?
There are several instruments to assess stigma. You can select one instrument and focus on a specific aspect of stigma, but if you want to get a more complete picture of the problem of stigma in your area, you will need to assess several aspects of stigma (see Guide 1: What are health-related stigma and mental wellbeing?). This will require using several instruments. For example, measures of anticipated stigma, internalised stigma and experienced stigma are often combined. You can also use an instrument that comprises several sub-scales that measure different aspects, such as the SARI Stigma Scale.
There are also several instruments to measure mental wellbeing or mental distress. You can measure mental wellbeing or mental distress in general, or specific conditions such as depression or anxiety. These are usually measured through different instruments. Although many other mental health conditions or aspects of mental wellbeing exist, this Guide will limit itself to methods and tools to assess the conditions and aspects mentioned above. Positive aspects, such as resilience, empowerment or self-esteem, can also be assessed and measured, but this is outside the scope of this Guide.
Use the flow charts in Guide 4 Annex 3: Which instrument should you use? to see which instrument(s) may be most suitable for your purpose.
Exercise 3: NTD Morbidity and Disability (NMD) Toolkit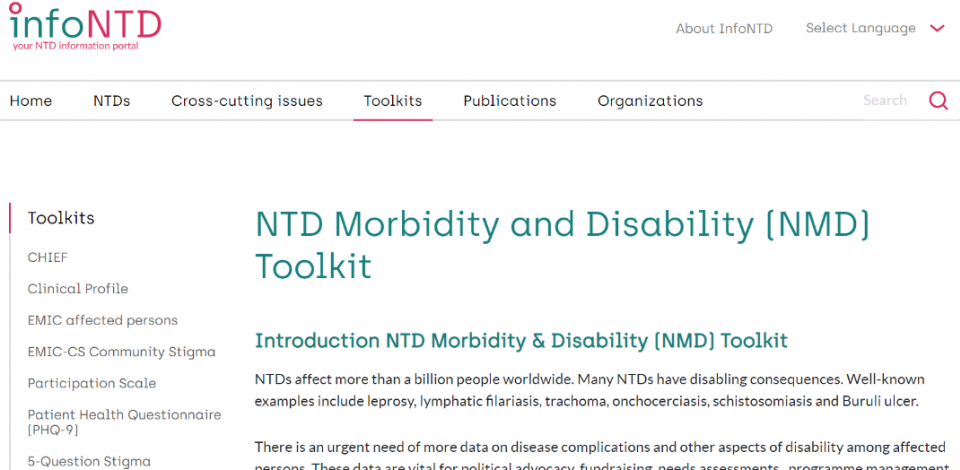 Exercise 4: Choosing a method for assessment
This exercise is an alternative way to make participants aware of the pitfalls when choosing a method. By making it a quiz, you encourage participants to actively search for answers. For further details, see Guide 4 Annex 1: Training exercises and tips.
Is this instrument already available for your target group and language?
Look up the recommended instruments in Guide 4 Annex 3: Which instrument should you use? and Guide 4 Annex 4: Questionnaire tables and carefully consider whether the instrument is appropriate for your purpose of assessing stigma or mental wellbeing. Try to answer the following questions:
Was the tool originally designed for my target group, or has it been validated for this group?

Is the questionnaire available in the appropriate language?
If the answer to one or both of these questions is 'no', you might still choose to use the instrument, but it will require more preparatory work. However, you should always carefully check the formulation of the items and judge whether they are appropriate to use in your target group. If you want to use the data for scientific purposes, or if important decisions such as interventions or funding may depend on the data, you need to do a validation study first (see Guide 4 Annex 2: Assessing stigma in the field). Before using a version of an instrument translated by someone else, please check that the translated version is still up to date with new versions that may have come out. Also check that no changes have been made that might invalidate the instrument, such as addition or removal of questions.
For more details on the use and advantages and disadvantages of quantitative methods, see Guide 4 Annex 5: Table 2.